By, Robert Rundo
August 14th, 2020. A banner is unfurled over the side of a busy highway, fast hands tie it in place so all below can see. Simultaneously, in another part of the world, a graffiti artist shakes his paint can to get the last few drops out to finish the mural on the side of a building. On distant college campuses and streets, crews of activists cautiously scout the area stopping to put up stickers and wheatpaste at every pole they encounter. Another part of the world flares lights up as men stand defiantly in front of the United States embassy shouting their message. The message that all these actions have in common "FREE RAM!
This refers to the three political prisoners arrested by the FBI for successfully defending themselves and others from Antifa and other left-wing parasites.
This is not the first time some actions have were taken to spread awareness about the political prisoners, but never has anything on this scale been done. This action was powerful because it was not only done across America, the homeland of the prisoners but across Europe as well. Even countries that traditionally have had differences put them aside to coordinate and work together. This a great achievement for the European nationalist community and US nationalist, as the two scenes rarely interact with each other, especially on a scale like this where both sides took to the streets for a shared goal. Even the nationalist from Serbia and Russia took part in the cooperation that not many could have predicted to help American nationalists.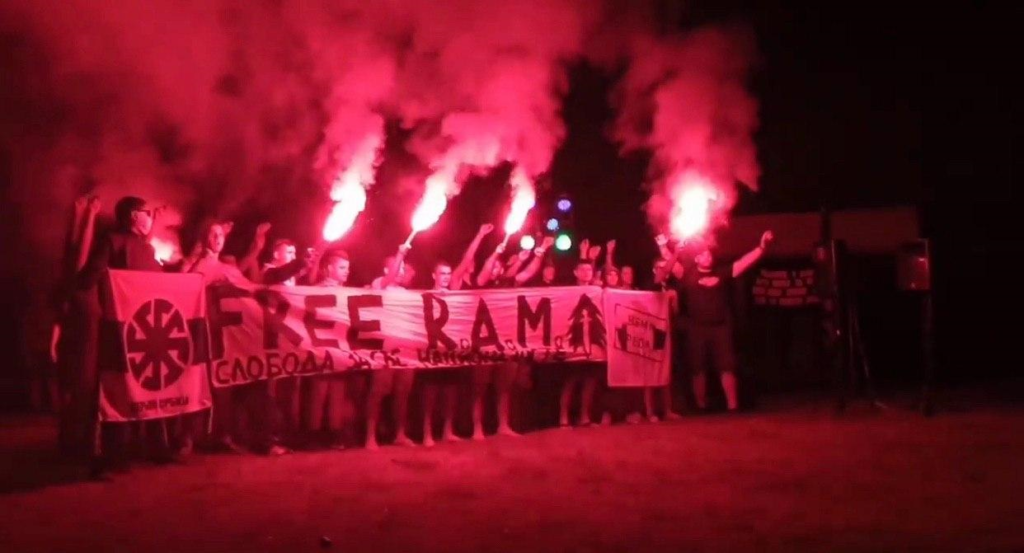 Over ten nations took part in this carefully planned action, ranging from stickers and graffiti to banner drops and even an outright demonstration in front of the US embassy demanding the three RAM members' release. From Scotland, Italy, Canada, US, Serbia, Greece, Germany, Czech Republic, even Ukrainian, and Russian nationalists all took part in a project like this that has never happened before. In the past, Pan European councils were ended with a handshake and a joint agreement. The "Free Ram" action from the International Conservative Community went further than those of the past, with a carefully coordinated and planned activism that will set a new standard among the nationalist community. Although the International Conservite Community is a relatively new organization, this fist action shows that its reach is broad and its aims are high. Building an international community like this will work to amplify the voices and serve as a network to help each other where ever they are. This is a new era for nationalists as they decide to put whatever past differences aside and work together against the same common enemies of our race and nations.
Stay updated and follow @i.conservative.community on IG